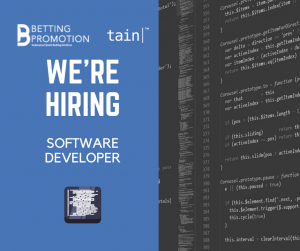 Software Developer
Job description
Betting Promotion is a small, dynamic company which means you will be part of the entire development process, from creation of the requirement specification to final testing and deployment, with your role having a high impact on the end result. You will be working with development of time critical applications targeting high liquid betting exchanges and sportsbooks. You will have the possibility to manage your work and give suggestions where to improve.
Candidate requirements
Bachelors or Master's degree (computer, mathematics, physics or similar) or previous senior software development experience
Microsoft .Net C#
Microsoft SQL Server
Good verbal and written communication skills in English
Desirable Skills
Experience from the Sports betting industry
Knowledge about odds, probabilities, betting options and the correlation between them
Experience from building applications for sports, finance or other highly intensive businesses
Experience in working with Jira and Confluence
Location
Malmö, Sweden.
Betting Promotion
Betting Promotion was founded 2003 and originally started as a trading company – having traded for hundreds of millions of euros every year in the most competitive sports betting market places in the world. Today we remain active in this segment, developing and maintaining our profitable trading systems.
In 2010 Betting Promotion diversified into a B2B sportsbook provider. We provide sportsbook solutions and services across all channels.
Betting Promotion offers stand-alone solutions for Sportsbook. We also offer fully managed platforms solutions in collaboration with our sister company Tain. Since 2017 we offer the combined full platform together with Tain under the new brand Amazing Gaming.
Our team
Betting Promotion is growing and presents good career opportunities. We pride ourselves with being a small-sized efficient organization with a great company culture, no staff turnover the last  four years. We are looking for an easy-going person who is able to roll up their sleeves and act on their own initiative if needed. Our team will provide all necessary training.
Apply via our Careers Page or send an email to jobs@bettingpromotion.com
About Betting Promotion:
With a foundation in trading, we provide B2B sportsbook and betting solutions to the gaming industry. Betting Promotion has been around since 2003 and is one of the market leaders for betting-related services.